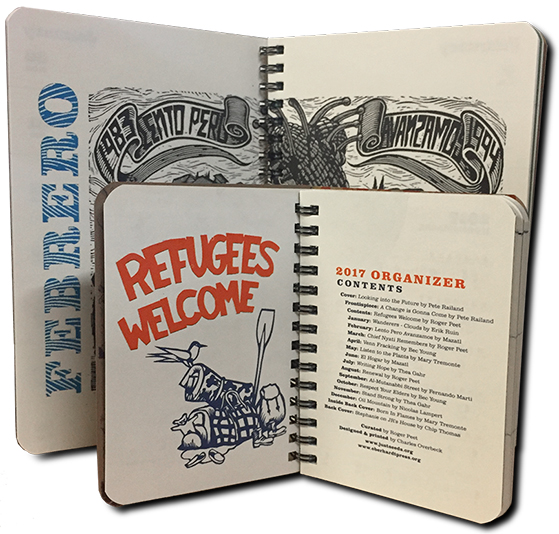 2017 Organizer
Justseeds & Eberhardt Press

The 2017 Organizer is now available! This datebook features the radical artwork of the Justseeds Artists' Cooperative, and was designed and printed by Eberhardt Press. Each month is illustrated with socially-conscious artwork by a Justseeds artist, with ample room for notes. Includes a moon phase calendar and a year-at-a-glance calendar.

Pete Railand's "Looking into the Future" is printed on the front cover, which is made from durable, 100% recycled, 130# double-thick kraft cover stock. The tough double-loop wire binding can withstand a whole year of wear and tear in your bag or back pocket. There's also a perfect bound version this year.

If there was ever a year to get organized, this is it! Make your 2017 count.



Pocket Edition:
3.5" x 5", 160 pages
$10.00 + 3.25 s/h

Planner Edition:
5" x 8", 104 pages
$13.00+ 3.25 s/h

International Orders:
Please send an email with a list of the item(s) you'd like to order, and we can send you an invoice to pay online.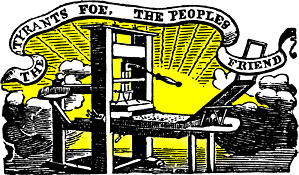 E B E R H A R D T P R E S S
636 SE 11th Ave., Portland, Oregon 97214
info@eberhardtpress.org


TO ORDER:
Single copies: You may pay online through PayPal, or send a check or money order to:

Eberhardt Press
636 SE 11th Ave.
Portland, Oregon 97214

Bulk orders: 50% discount for bulk orders that are paid up front. Minimum order: 15 items (can be mixed) plus shipping costs. We usually don't do consignment, but we offer exchange credit for returns. To place a bulk order online, email us a list of the titles you'd like to order with quantities, and we'll send you a PayPal or Square invoice. Otherwise, you can mail a check or money order.

International orders: Please email us a list of the titles you'd like to order. We can send you a PayPal or Square invoice with shipping costs included, or you can mail an international money order.

Questions?
orders@eberhardtpress.org