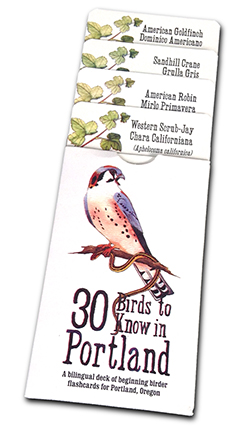 30 Birds to Know in Portland
30 Aves Para Conocer en Portland

"30 Birds to Know" is a bilingual set of beginning birder flashcards for Portland, Oregon. Eberhardt Press co-founder Esther splendidly illustrated and wrote this beautiful deck of cards, which was designed and printed at Eberhardt Press. For each pack of cards sold, one is given away to a local youth or low income Portlander. Printed with spot colors on 100% post-consumer recycled paper. Boxes printed and diecut at Eberhardt Press. This first printing is a limited edition of 1,000 decks.

Una colección bilingüe de tarjetas ilustrativas para principiantes en la observación de aves para Portland, Oregon. Para cada paquete de tarjetas que se venden, uno se da a un local de la juventud o una persona de bajos ingresos.

Bird Identification Cards
3" x 5"
32 cards
$20.00+ 2.80 s/h




International orders:
Please email us to place your order.